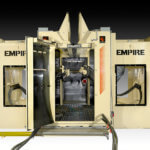 Since 1987 Empire Abrasive Equipment has successfully integrated commercially available robots into a variety of pre-engineered robotic blast cells, customized robotic blast systems and robotic blast rooms. Our goal is to consistently deliver customers with robot blasting technologies that enable efficient, quiet and clean robotic blasting solutions for surface preparation and peening applications.
Empire is a Fanuc Authorized Integrator, Kuka Official System Partner, ABB Robotics Authorized Partner, Yaskawa Motoman Strategic Partner, and Robotmaster CAD/CAM software integrator. Working together with our strategic partners we provide integrated robotic air-blast solutions for aerospace, transport, energy, gas & Oil, high technology, military, medical and industrial / consumer manufacturing markets.
To meet evolving requirements and challenges our growing portfolio of robotic blast system optional features include: servo controlled auxiliary axis, vision systems, off-line programming, coordinated part manipulation, end-effectors for part manipulation, custom part fixturing, unified HMI controls for data collection, RFID/Barcode scanners, Laser Scanners, Ethernet communication, IOT capable remote access routers for data collection and monitoring.